52 Events from 14th to 17th June
The FlowerTrials® take place in week 24

Block week 24 now! This year's edition of the FlowerTrials® takes place from 14th to 17th June.
At 30 locations in the Westland and Aalsmeer area in The Netherlands and Rhineland Westfalen in Germany, no less than 52 companies will be displaying their latest assortment in pot and bedding plants to wholesalers, growers and retailers. Daily opening hours have been extended and all locations are open for visitors from 08.00 to 18.00 hours on Tuesday to Thursday with doors closing at 16.00 hours on Friday.

Board member Ton de Bresser of Selecta One which exhibits in two regions Westland and Germany:
"The FlowerTrials has become a key event in the horticultural calendar. All breeders display their innovations in the most inspiring way, turning each visit into a unique experience. The FlowerTrials is not one single happening, it is 52 events in one."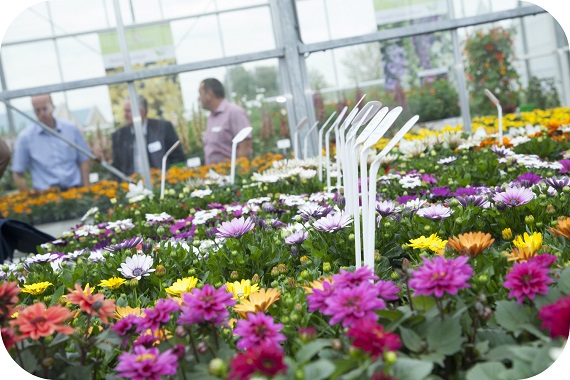 Photo: Rolf van Koppen Fotografie

Bock Bio Science, Gediflora, Prudac and VWS FlowerBulbs
Four new breeding companies have joined the FlowerTrials® and will be exhibiting for the first time this year. The German Bock Bio Science specialises in Phalaenopsis breeding, but also delivers wild orchids, Gentiana, Helleborus and Peonies. Young plants, semi finalised and finalised plants are available. Gediflora is a global player in the field of ball-shaped Chrysanthemums, internationally known under the brand name Belgian Mums. The Dutch breeder Prudac presents ornamentals such as edible Violas, Tomatoes, Peppers, Allium and Cauliflower. VWS FlowerBulbs exports Dutch Lilium, Gladiolus, Tulip and Iris flower bulbs across the world.

New Chair Gill Corless
Gill Corless, Marketing and Retail Manager Europe at Sakata Ornamentals, takes over the Chair of the FlowerTrials® Board succeeding Jeroen Egtberts, Managing Director of Moerheim New Plant. With her marketing background, horticultural experience and professional network, Gill Corless will take the lead in raising the event to the next level and increasing global industry attention for pot and bedding plant breeding in week 24.

Gill Corless:
"Jeroen Egtberts' vision and perseverance have been instrumental in making the FlowerTrials what it is today. I am extremely proud and honoured to succeed to him as Chair of this remarkable Event and am looking forward to contributing to its future success."


Note to the editor
For further information please contact:
FlowerTrials® Secretariat
Ann Jennen
T: +31 71 364 91 01
E: organization@flowertrials.nl