Dear Colleague,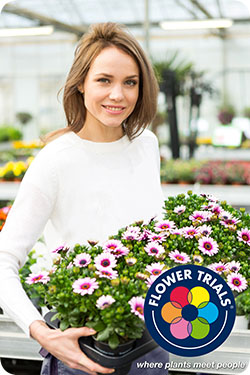 FlowerTrials® 2017 - where plants meet people

No fewer than 59 Pot and Bedding Plant breeders proudly present their latest innovations, creative concepts and an incredibly wide range of crop assortments. From technical information to retail inspiration, from breeding breakthroughs to latest trends, every professional in ornamental horticulture has a reason to meet at FlowerTrials®.

Where: Open house at more than 30 locations in 3 regions: Westland & Aalsmeer in The Netherlands, Rheinland-Westfalen in Germany.

What to see: Bedding plants, container plants, indoor & outdoor pot plants, crop information, retail concepts and trends. For an overview per company of what is on offer see www.flowertrials.com

Who: Open to all ornamental horticulture and retail professionals

When: 13th to 16th June 2017.

Opening times: Tuesday - Thursday from 08.00 - 18.00 hours and Friday from 08.00 - 16.00 hours

Register your visit via www.flowertrials.com.

See you at FlowerTrials®!